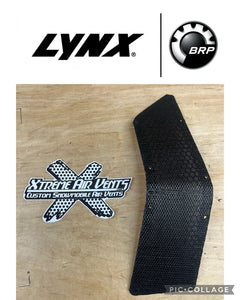 NEW for 2024 this vent fixes the weak torn factory knee vent on your 2023-24 Gen 5 LYNX (This will not fit Ski-doo)
It is made of tough aluminum with a super strong coated mesh covering with an extra layer of OEM spec waterproof material between the aluminum and the mesh covering to keep the fine powder out but still let a lot of air in.  These vents are a solid aluminum. Nothing will ever tear through, and they actually add structural strength.
This vent simply rivets on over your factory vent.  The factory vent frame must not be broken (torn is not a problem).  Includes rivets for easy install.