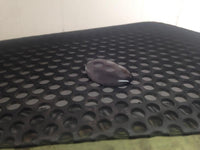 High Quality Pre-Filter
We use the highest quality OEM spec pre-filter on the market.  All clutch side vents and intake vents come standard with this material.  Exhaust side can be added for no additional charge (example: turbo'ed sleds, watercross etc.)
Get some Xtreme Air Vents Gear!
Why should I pick Xtreme Air Vents?
Xtreme Air Vents builds the strongest vents on the market.  Our vents are water-jet cut from super strong aluminum sheets with a custom punch pattern for the highest amount of air ventilation.  This aluminum backing creates the backbone for our vents.  Nothing can punch through or tear the vent.  These vents are built for extreme riders that encounter trees, willows, rocks, other sleds etc.  There is nothing worse than missing out on a good ride due to a torn vent.  This just won't happen with Xtreme Air Vents.  Each vent is wrapped with an extremely durable coated mesh.  On all clutch side vents we add a layer of highly waterproof material between the aluminum and the mesh so no water can get on the clutches.  This material is similar to frog skin material but we use our own custom thickness for high air flow. Water is kept out but air is allowed to pass right through.  Many vent companies out there use polyester from the fabric store.  This is just foolish.  Polyester is not waterproof and will hold water which can then freeze.  Frozen vents will not flow any air and thus become worthless.  Just order em...we know you'll like em.