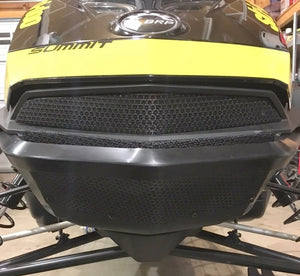 Cover the snow gulping, ice forming monster grill on the front of your Gen 4 with this sweet new set of vents. These vents come together as a kit with the Top and Bottom Vent. The vents are made of aluminum with a tough poly coated mesh wrapped over them.  If your sled came with a factory grill vent, it will need to be removed prior to installation (some 2020-2022).
Pre-filter option - This option adds an extra layer of pre-filter between the aluminum and the mesh.  This option will eliminate snow and moisture from entering the hood area.  

These vents come complete with rivets and bolts for easy install. Note: It is required to remove the hood for installation.